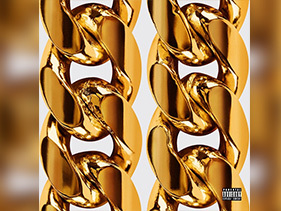 The cover of 2 Chainz's B.O.A.T.S. II: Me Time album cover may look simple, but the "I'm Different" MC and Kanye West's design company DONDA labored over the design. "It's hard. I can't lie, it's hard. We've been trying to do the cover for like two months now," Chainz told MTV News in July.
On Tuesday (August 6), the Hair Weave Killer dropped the final product on his Instagram account. The cover shows two Cuban link-styled gold chains against a white backdrop to signify 2 Chainz's rap moniker and the fact that B.O.A.T.S. II is a sequel. Then of course there is the ever-important parental advisory label in the lower right-hand corner — no sqeaky clean raps here.
Last year Chainz and DONDA, West's design firm named after his mother, collaborated on the Atlanta rapper's Based on a T.R.U. Story album cover and the results were quite striking. The LP cover simply showed two chains against a black shirt.
"Kanye and I share a similar vision and think along the same lines creatively. So, when it came time to develop the imagery for my project, I trusted him and his team at DONDA to get the job done and communicate my sentiments," Chainz told Billboard last year. "They were the first people I thought of. Their team is unprecedented. Expect next level imagery, sonics and stage performance. This is curated art. The Louvre of rap."
The new album is set to drop on September 10 and is led by the Pharrell Williams-produced single "Feds Watching." Though 2 Chainz hasn't revealed the full track list just yet, it seems that he will be keeping it light on the features. Jay Z, for one, will definitely not appear. "I went to the Justin [Timberlake] and Jay show in London, so I hollered at Jay," he told MTV News. "And when me and 'Ye talked I said, 'You think I should put Jay on this song? And he was like, 'Me time. It's your time, maybe next time.' "