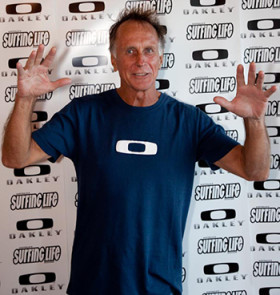 New Zealand surfing great Allan Byrne has died in Bali after suffering head injuries in a motorcyle crash. The 62-year-old died today. Byrne, who had lived in Australia since the late 1970s, was holidaying in Bali and was due to surf in a contest there this week. He was involved in an accident on the Indonesian island last Friday. He was taken to hospital with a broken arm, but doctors soon diagnosed a fractured skull and bleeding on the brain. He slipped into a coma and never recovered.
In the 1960s and 70s, Byrne was a four-time New Zealand open champion and won the junior title four times.
He was born in Hamilton, but developed his surfing skills in Gisborne, and contested the world championships in 1966, 1968 and 1970.
There was no official world tour when Byrne was at the peak of his powers, but he received many invitations to international events, and his standout result was a second placing to Australian Simon Anderson at the Pipeline Masters in 1981, surfed at the legendary break on Hawaii's North Shore.
He made his name internationally as a surfboard shaper, moving in 1977 to Australia's Gold Coast, where he made boards for world champion Wayne Bartholomew and three-time runner-up Gary Elkerton.
Byrne's signature boards featured the design breakthrough channel bottom that produced more speed and better handling. He developed the idea from aerodynamics learnt from his time in the Royal New Zealand Air Force.
Byrne remained active in surfing, with a liking for big waves as he continued to surf many of Hawaii and Indonesia's better breaks up to the time of his accident.