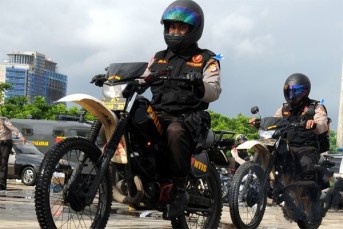 Bali Police increases vigilance after bomb blast at the Shrine Ekayana, West Jakarta, Sunday (4/8) to tighten security in a number of places of worship and the entrance to the island."We are certainly more introspective, and improve security awareness," said Head of Bali Police Public Relations Commissioner Hariadi, Tuesday (06/08).
According to him, the security in a number of places of worship that exist on the island submitted to the unit area, both the Police and the police station in nine counties and cities in Bali.
He explained that the security of places of worship has been a part of the security in the Great Ketupat Operation Plan 2013.
"We are already making plans based on the characteristics of operating in Bali and we put safety through the security posts," he said.
In addition to a place of worship, homecoming activities, securing vital objects and abandoned residential homecoming residents were also subjected to the security police.
Hariadi dismissed if the associated security at places of worship in the temple after bomb blast Ekayana, Kebun Orange, West Jakarta was due to have been prepared ahead of time in the operating plan.
"That's the way we arrange the day consolidating after the loss of dynamite and the escape of four inmates terrorist Tanjung Gusta Prison," he said.
Previously Bali Police deploy 1,300 personnel to secure Operation Ketupat Agung 2013.
In addition the police also set up 23 security posts and services in the route in cooperation with other agencies including the military, the Department of Transportation, and the Department of Health.