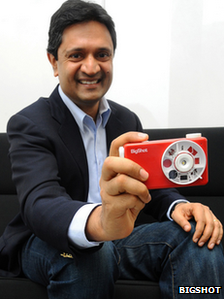 A DIY digital camera designed to teach children about how the tech it uses works has been launched in the US.
Owners of Bigshot's device need to assemble its parts in a specific sequence to make it work. An online guide explains the science behind them.
It has been developed by a US computer science professor who used funds from Google and the US Department of Defense to develop the kit.
He aims to offer an alternative to other programming-focused projects.
"It's about getting kids' hands dirty," Bigshot's creator, Prof Shree Nayar, told the BBC. "In an age when software rules I want kids to know how to build hardware.
"We describe concepts that children would normally encounter at college, but try to make them accessible even to an 8 or 10 year old.
"That's where a lot of our effort has gone in – to try and make things like image processing, electronics and display technology understandable at some level to younger kids."
The camera features a hand crank to allow owners to take pictures when its battery runs out, and a rotatable wheel featuring three different lenses to let owners choose between regular, panoramic and 3D shots.
To bring the product to market, Prof Nayar has licensed the design to Hong Kong-based manufacturer EduScience which will pay him royalties on its sales.
He plans to use part of the cash to send Bigshot cameras to underprivileged children around the globe.
His business model is similar to that of the Raspberry Pi, the educational computer developed in Cambridge.
One of the team behind the budget PC welcomed the news.
"Kids' enthusiasm for hardware projects has been a real surprise to me since we launched the Pi," said Eben Upton, co-founder of the Raspberry Pi Foundation.
"I'm a software engineer by background, so I thought most people would write graphics demos when in fact they've been doing a lot more electronics, even at a very young age.
"It's also very encouraging to see a team who are able to bring something like this to market without having recourse to crowdfunding."
Learning-by-building
Prof Nayar first came up with the idea of his camera in 2006 and developed the concept at Columbia University where he heads its Computer Vision Laboratory.
Over the following years he sent out prototypes to children in India, Japan, Vietnam and the US and then used their feedback to tweak the design.
He acknowledged that other companies – including Vtech, Fisher Price and Vivitar – offer cheaper child-friendly cameras, some of which beat his product's 3 megapixel resolution. But he said Bigshot offered something different.
"We're selling it at $89 [£58], and it's been a real challenge bringing it down to that cost," he said.
"Unlike a camera that you can snap together and you don't have to worry about the parts inside, in this case each component that the kid is handling has to be safe and be something that reveals a concept.
"I see it as an experience which includes learning-by-building, then using for photography and finally sharing your pictures with kids from other communities – it's that entire experience."
EduScience has built several thousand units to test demand and is initially limiting sales to North America.
Fifty of the cameras have already been bought by the Center for Arts Education, a non-profit organisation providing New York schools opportunities they could not otherwise afford.
It plans to give the devices away to a pilot group of underprivileged children in September. It said if the test proved a success it intended to buy and donate 950 more before the end of the school year in July.
"By putting the Bigshot cameras together and taking artistic photos the children combine arts, science, technology and engineering in ways that really haven't been possible before," said Jerry James, the centre's director of teaching and learning.
"In our view it prepares students for college and careers. It's not just learning about one thing, it's about learning many things at once."
'Lots of love'
Bigshot's launch comes at a time when sales of other digital compact cameras are declining due to the popularity of lens-equipped smartphones and tablets.
Japan's Camera and Imaging Products Association (CIPA) recently announced shipments of built-in lens products were 48% lower in the first half of 2013 than for the same period the previous year.
Despite this one leading member of the UK's tech community believes the new product will fill a significant gap in the market.
"I am delighted and not surprised at the Bigshot launch," said Emma Mulqueeny, organiser of Young Rewired State – coding festivals held in New York, Berlin and across the UK for the under-18s.
"I think it is exciting for computing, exciting for photography and as the second in the latest launches on the market after the Raspberry Pi last year, it just takes one more break-out launch to make this a charm."
"This early move to market – and a social enterprise market at that – will bring Bigshot lots of love from the young entrepreneurs of tomorrow."