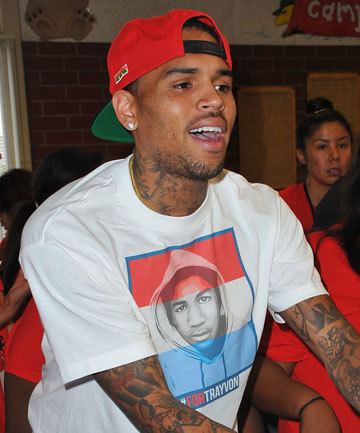 Chris Brown has reportedly turned himself in at a Los Angeles jail. The 24-year-old singer was due to be booked for his alleged hit-and-run offence on Tuesday. According to TMZ, he avoided photographers by ducking into the Van Nuys jail a day ahead of schedule. Brown's lawyer, Mark Geragos, is said to have arranged for him to turn himself in.
The entire process reportedly took 45 minutes.
The Los Angeles District Attorney's office brought misdemeanour offences against Brown after he was involved in a minor fender bender in May.
Alleged victim Olga Gure-Kovalenko claimed Brown didn't share his insurance information or his driver's licence at the scene, an offence in California.
While Gure-Kovalenko has reportedly decided not to move forward with the case, the DA is continuing to pursue it.
According to TMZ, Brown pled not guilty to the hit-and-run charge last month.
Two of the misdemeanours originally brought against the musician by prosecutors, driving without a valid licence and proof of insurance, were dismissed.
Brown was forced to visit a police station prior to August 6 since he was not arrested the day of the alleged incident.
He will next visit court to address the alleged hit-and-run violation on August 15.
The star is currently on probation for his 2009 battery conviction stemming from an incident with ex-girlfriend Rihanna.
If he is found guilty of hit-and-run, he could face up to four years in prison.