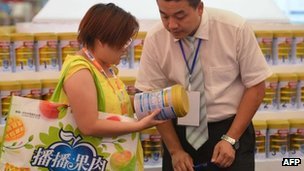 China's state media appear to be trying to capitalise on the health scare involving the New Zealand dairy giant Fonterra to boost consumer confidence in domestic brands. But judging from online reaction, few Chinese parents have been convinced.
Fonterra's admission that, due to a production fault, some batches of its products contain bacteria that can cause botulism has attracted immense attention from users of China's vibrant social media platforms, particularly the Twitter-like weibo microblogs.
There has been a lot of anger and disillusionment from those parents who have spent a fortune on foreign milk formula to minimise health risks for their babies.
Weibo user "Yaya Niur" wrote: "I have always been careful with milk powder and have never bought domestic products. Upon realizing that I've still fallen victim, I'm speechless with anger! Sorry baby, mummy has failed to protect you."
"Miaoxiaojin" said: "Now that even imported milk formulas are problematic, I wonder whose products we can trust."
State media appears to see Fonterra's plight as an opportunity for Chinese milk producers to win back public confidence, most of which was lost after melamine-laced milk powders killed at least six babies in China in 2008.
The People's Daily, the Communist Party's most authoritative mouthpiece, printed the Fonterra story as its top headline on the front page of its overseas edition, setting out the authorities' efforts to prevent the tainted products from entering the Chinese market, and warning consumers not to "blindly trust" foreign brands.
'Negligence'
But the media's criticism of foreign milk brands triggered a backlash from Chinese netizens.
"Miss Feng Mum" said: "Chinese propaganda is belittling foreign milk powder in order to boost domestic brands. But who will trust those deceptive domestic producers?"
"Chauvet_Zhao" wrote: "Foreign producers carry out preventive recalls, but domestic companies get exposed only when their milk powder kills people."
"Model Brother II" said: "Foreign milk products get contaminated due to negligence, which is equivalent to 'manslaughter'. Domestic producers intentionally add melamine to milk powder, which is 'intentional murder'."
Some netizens even suggested that Fonterra's revelations showed the company's conscience and sense of responsibility.
"Liuchen Xingyu" said: "It is better than concealing the problem. It is most terrible when the government helps cover up scandals."
"Taoziyuan" wrote: "There are no companies in China that are so conscientious as to reveal their own shortcomings. Such is the difference between China and New Zealand."
Pastures new
Some Chinese media outlets have also acknowledged the fact that Chinese dairy producers may not be in the best position to take advantage of the Fonterra milk scare.
Song Liang, a dairy industry expert, told Shanghai's Diyi Caijing Ribao newspaper: "It will be a lengthy process for domestic dairy products to gain consumers' trust."
"This case may be good for the domestic dairy industry, but the biggest beneficiary will probably be dairy exporters from countries other than New Zealand," he said.
On weibo, unofficial Chinese dairy traders based in Europe and North America are already reporting an upsurge in inquiries from mothers in China anxious to find alternative milk sources.
A UK-based Chinese trader wrote on his microblog: "We only sell Aptamil and Cow & Gate from Britain. Europe, especially the UK, conducts the strictest food safety tests."
"Ye Xiaorao", a parent in Anhui Province, exclaimed on weibo: "Last night, we urgently switched to a European milk powder for our baby daughter. God, it's been such torment for us parents!"