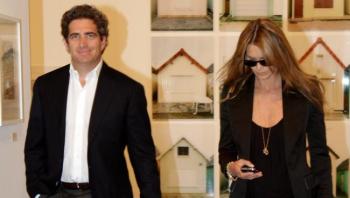 ELLE Macpherson has married for the second time. Elle Macpherson has married billionaire Jeffrey Soffer in Fiji surrounded by family and friends, a source close to the couple hastold US magazine.
The Sydney-born supermodel, lingerie mogul and TV host got engaged to Soffer, a hotel heir in March 2013, flashing her giant ring at a London event later that month.
Macpherson then briefly dated banker Roger Jenkins.
However, she rushed to Soffer's bedside when he was injured in a helicopter crash in the Bahamas in November last year, which killed his friend Lance Valdez and saw him undergo surgery for a fractured vertebrae.
Based in London for many years, it is believed Macpherson is preparing to relocate to Florida in the US where Soffer is based, Mail Online reported.
Macpherson was previously married to fashion photographer Gilles Bensimon from 1986 to 1989.
She has two sons with ex-boyfriend Arpad Busson, Arpad Flynn, 15, and Aurelius Cy, 10.