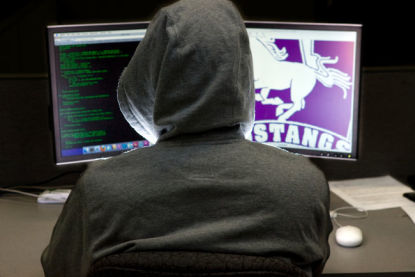 All this has a lot of famous Indonesian hackers on the world stage. Jim Geovedi addition, there is one Defacer that could create a headache because many of the action. The world of hacking is not new anymore nowadays. Many hacking action happens and make parties were attacked and had to scramble back up the database as well as the maintenance of its website.
The hacking of various actions, there are a few hackers from Indonesia, which had become a byword in the international world. For example, Jim Geovedi ever raised eyebrows because of his expertise.
In addition to Jim, there are a few more hackers are also a concern for many people in the world. One is a hacker from Indonesia with initials Hmei7.
Hmei7 could make a scene because it managed to mess up the blogging sites, WordPress, a few months ago. Not only Wordpress, according to a note on the website Zone-H, Hmei7 been hacked (defaced) thousands of sites in the world.
In fact, eHacking News (02/01), once commented that he also managed to knock out more than 5,000 websites around the world in just 2 days. Because of his actions, it is known as the Mass Defacer Hmei7 world.
However, who is the original figure behind the initials Hmei7 this?
Until now information about a hacker's still confusing. In fact, Softpedia successfully interviewed someone who claimed he was Hmei7 (original), but apparently (according to the Softpedia) instead.
There's even a blog with the name hmei7.blogspot.com. Unfortunately, the blog also can not be used as evidence as the possession of his Defacer.
Of the number of data circulating on the internet, is a college student Hmei7 (probably already graduated today) in one of the public universities in Malang, East Java. Educational background in lecture is DISKOMVIS.
Reportedly, he was active in the hacking world since 2001. In addition to the forums, Hmei7 also often present in the vehicle with the mIRC chat nick name differently.
Besides in mIRC, he also frequently appeared in Yahoo! Chat Group and forums related to cyber and technology. From there, Hmei7 starting to learn a lot by studying the tutorials, ask questions directly to the hackers also senior or direct practice.
After having 'sufficient knowledge' guerrilla Hmei7 tried extensively and his first successful websites disable is IBM's website.
According to Softpedia (15/06), in and after the act, Hmei7 do know a lot of IDs and passwords on the site is attacked, but he did not want to publish it or use it. He's just happy to deface and display its name on the main page of the website in question.
According to data from Zone-H, up to now, already there are hundreds of thousands of websites and blogs that he managed to disable or she also change her appearance. He even was ranked as the world's first hacker (Defacer) according to the ranking in the Zone-H.
Although many websites or blogs that say that they have managed to uncover the identity of Hmei7, but once again the confirmation is still too gray because there is no evidence to who exactly Hmei7.