Thousands of Jembrana People, Bali, from various community organizations and indigenous villages refuse shooting a documentary by Japanese citizens. They suspect related to the perpetrators of child sexual abuse against a minor. Rejection movie called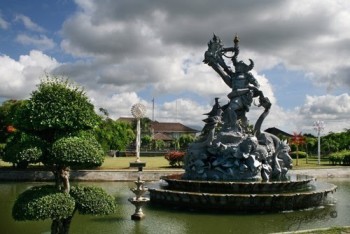 Bali Big Brother that made ​​citizens who are members of the Young Generation Jembrana. Sued to protest at the parliament building and the local Police Headquarters in the State.
"We also see strong indications of sexual exploitation of a minor who was Mr M, a resident of Japan who has a villa in Jembrana. This film will be made, we expect also in touch with him, "said the Chairman of the Council KNPI Jembrana Gede Ariana Bisma on the sidelines of his oration.
Meanwhile, Chairman of the Village Council Associate Pekraman Jembrana Rayun I Wayan said, the movement is a rejection of all the activities, events, and harassing behavior customs and culture of Bali.
"The culture of Bali that uphold the spiritual and religious values. We reject all forms of activity that leads to the desecration of the spirit, "he said.
Thousands of youth from KNPI, Hindu Youth Forum, Pemuda Pancasila, Pemuda Panca Marga, Catholic Youth Forum, FKPPI, PPMI, GP ANSOR, Muhammadiyah Youth, indigenous organizations and NGOs started the action of Arts Bung Karno.
They walk towards the Jembrana Resort Police while carrying dozens of posters with various writings urging police evict Mr M of the district's most western island of Bali.
To the police, they demanded stern action against the persons who became backing underage prostitution. The action they end at the parliament building Jembrana by submitting a claim in writing to the Chairman of Parliament I Ketut Sugiasa.
In a written demand that, aside from the security forces crackdown, they reject all forms of exploitation of youth in Jembrana, free sex and teen behavior that could damage morale. The Jembrana regency in particular the Integrated Licensing Service Office, the mass'm not giving permission Bali filming Big Brother is filmed in the district.
Chairman of the Parliament Jembrana Ketut Sugiasa receiving these demands and promised to follow it up institutionally. It will invite tribal elders and traditional village heads throughout the Jembrana district to discuss the issue.