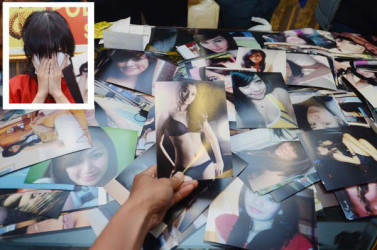 Middle-aged woman with the initials SDI arrested for allegedly selling some teenagers to serve male Caucasians in Jembrana District, Bali. SDI allegedly pimping minors arrested during raids at a hotel in the village of Baler Bale Agung State, Jembrana regency. However, officers only arrest pimps and request information from the 3 victims, whereas 3 foreigner touted hire 3 students
it was later removed. Head of Jembrana Resort Police, AKP Wayan Setiajaya confirmed that SDI was arrested while delivering 3 victim to a strange man was in hotel masher H. "We suspect there is a transaction involving sex minors, so we did the examination," said the police chief permission Setiajaya Jembarana Commissioner Sandi Arsana Komang, Thursday, August 1, 2013. Of operation at the hotel found a teenager serving middle man masher. While the pimps after receiving payment, is outside waiting room serving his 3 children 3 guests are foreigners.
All juveniles arrested that day still a high school student. Each KS (16), class 1 student of SMK Environment citizens Awen, Lelateng, State, NR (16), class 1 student of SMK Citizens Guild, West Loloan, State, and EN (16), grade 2 high school students Loloan West Citizen , State. Recognition based SDI, he became teenage dealer by giving a rate of $ 600 thousand service once per hour. For once dating, the teenagers received Rp 250 thousand, the remaining Rp 300 thousand for pimps, and Rp 50 thousand for liaison.
For his actions, SDI snared coated article, namely Article 88 of Law 23 of 2002 on Child Protection with a penalty of 10 years as well as Article 2 Paragraph 1 of Law No. 21 Year 2007 on Eradication of Human Trafficking. "The threat of a minimum sentence of 5 years and maximum 15 years in prison," said Setiajaya. National Commission for Child Protection chairman Arist Merdeka Sirait said the arrest of pimps who sell teens on Jembrana to strangers corroborating evidence for the existence of human trafficking in Jembrana.
"The police have to work harder to menguangkap this case. I am sure there are many young people in Jembrana who are victims of human trafficking.'s All the more evident, I am not making this up," said Arist who contacted separately.