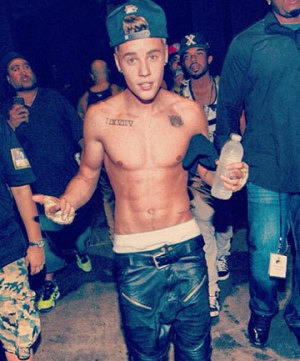 Justin Bieber reportedly "went nuts" during a nightclub brawl on Saturday. The 19-year-old singer visited the South Pointe club in Southampton, New York City, over the weekend. According to New York Daily News, fans wanting a picture of the star were left disappointed thanks to Bieber's "intimidating" and "overbearing" bodyguards. During the night a female partygoer reportedly tried to chat up the singer, but things became heated when her male friend got involved.
"He [Bieber] ripped his shirt off and went nuts. He was screaming," a source told the publication.
Prior to the incident Bieber's bodyguards were said to have been "heavy handed" in their protection of him.
According to witnesses, his crews also got involved in the fight and one source claims to have seen blood.
Club security stepped in and reportedly took him to the car park where his SUVs were waiting.
The latest incident follows a bout of recent bad behaviour.
Over the past week it has been reported that Bieber's tour bus was stopped and seized for drugs.
He also put a fan's iPhone down his pants during a recent concert and pictures emerged of the singer spitting on fans from his hotel balcony.
His publicist claims he was "not involved" in an incident and the New York Post paints quite a different picture of his night out.
"Justin stayed about an hour but had a great time," a source said.
"He was standing on a banquette dancing when his song came on. Girls were trying to flirt with him, but he played it cool."