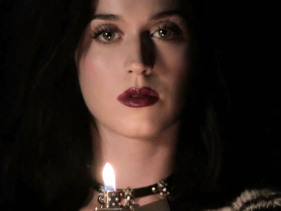 Perry has confirmed her lead Prism single is out August 12 in dark video teaser.
We still may not know what's in that gold truck driving across the country, but we do know that Katy Perry's new single is called — "Roar."
It had been rumored earlier this week that Perry's lead Prism single would be titled just that… and the singer confirmed it Friday (August 2), sharing it will debut on August 12.
In the dark announcement clip, Perry wears a choker, striped sweater and dark lipstick, a pulsing hum serving as the soundtrack. She then takes a lighter and holds it up to her signature blue wig, worn during her "California Gurls" era. As the wig burns up, the camera pans out to reveal Perry in full-on badass mode. The words appear onscreen in tiger print.
Perry had one additional message for her Katy Cats, tweeting, "WE DON'T NEED NO WATER LET THE BABY BLUE BURN."
Little else is known about the song, but it's rumored that Dr. Luke, Max Martin and Bonnie McKee have a hand in its creation. In fact, McKee may have inadvertently given MTV News a vital clue about the track last month.
"I think it's a little bit more grown up and it's really interesting," said McKee, who had worked with Katy on "California Gurls." "I'm really excited for the world to hear it because she's just… she's taking a new approach. And I don't want to say too much about it, but it's definitely different. It's definitely a little more mature than the 'California Gurls' of yesterday."
"Roar" drops one week before Lady Gaga will release her new single and video for "Applause." Then, Prism drops October 22, just weeks before Gaga is slated to release her new album, ARTPOP, on November 11, setting the charts, and the world, up for the A-POP-calypse.