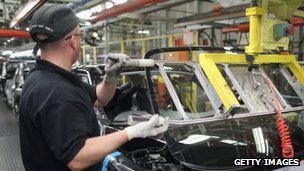 The average worker will lose a total of £6,600 in real terms during the coalition's term in government, the Labour Party says.
It is accusing David Cameron of having presided over more months of falling real wages since 2010 than any other prime minister in the past 50 years.
Based on its prediction, Labour said many workers had "never had it so bad".
But business minister Matthew Hancock said the previous government had been "disastrous" for the UK economy.
He added that the main job of the Conservative-Liberal Democrat coalition – set to last until the general election of May 2015 – was to clear up Labour's "mess".
Labour has used figures from the Office for National Statistics and projections from the Office for Budget Responsibility (OBR) to come up with its figures. It says only one month of Mr Cameron's premiership has seen a rise in real wages.
'Out of pocket'
The £6,660 figure is before tax and does not take account of benefit changes. It is based upon an OBR forecast that average annual wages will be £1,520 lower in 2015 – once adjusted for inflation – than they were in 2010, when the coalition government was formed.
Shadow treasury minister Chris Leslie said: "David Cameron will go down in history as a disastrous prime minister for people's living standards. He is totally out of touch, his economic policies have failed and the result is working families are massively out of pocket.
"By 2015, official forecasts show working people will have lost an average of £6,660 under five years of the Tories. Yet millionaires have got a huge tax cut from this government.
"Far from never having it so good, many working people have never had it so bad. Prices have risen faster than wages in 36 out of the 37 months since David Cameron has been in Downing Street. This is the worst performance of any prime minister on record.
"Labour would help middle and low income families right now, including a lower 10p starting rate of tax, action to tackle soaring energy bills and protecting tax credits for working families by reversing the tax cut for millionaires."
But Conservative business minister Matthew Hancock said: "Today's squeeze on living standards is a direct result of Labour's disastrous economic policy that got us into this mess.
"And if they were in government now, Labour would make hardworking people worse off. Their plan for more borrowing and more debt – exactly the same old Labour policy that got us into this mess in the first place – would mean soaring mortgage rates and higher bills.
"As the economy continues to recover we must ensure that – unlike under Labour – everyone who works hard has the chance to take part in that recovery and reach their potential.
"That's why we're taking 2.7 million out of income tax altogether, cutting income tax for millions more and fixing the welfare system so that it rewards hard work."