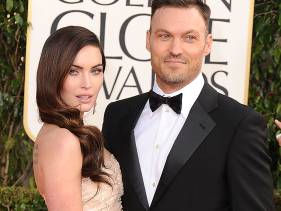 Just nine months after becoming a mom for the first time, Megan Fox confirmed she's expecting her second child with husband Brian Austin Green.
"I can confirm Megan is expecting her second child with her husband, Brian, they are both very happy," a rep for the actress told the New York Post's Page Six on Friday (August 2).
Fox gave birth to son Noah last September. Green also has a son, Kassius, from a previous relationship with actress Vanessa Marcil.
Fox is currently in the middle of filming for the "Teenage Mutant Ninja Turtles" reboot, but she has spoken openly about motherhood and her desire to expand her family. In the March 2013 issue of Marie Claire UK, she revealed, "All I wanted to do my whole, whole life was have a baby and, now, I've finally done it. I just want to give Noah as much of myself as I can. And I want to have more kids. That is where my heart is."
Green and Fox first met on the set of the sitcom "Hope & Faith" in 2004 and became engaged in 2006. After a brief split in 2009, the couple renewed their engagement, eventually tying the knot in June 2010 in Hawaii.
"I feel like I'm with my best friend," Fox told MTV News about Green last year while promoting her film "Friends With Kids." "I've been with him for so long, so it feels natural and comfortable."
Fox is currently shooting the live-action "Ninja Turtles" in New York City. The film reunites her with "Transformers" director Michael Bay. In this installment of the popular mutant franchise, Fox will play the turtles' close pal, reporter April O'Neil.