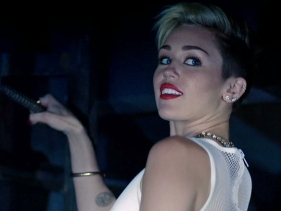 What's the grittiest way to get to the 2013 MTV Video Music Awards? Pink got pretty bad-ass last year by flying in on a helicopter, but that's not Miley Cyrus's style. Miley's crawling through the tunnels of Brooklyn with her Smiler gang, baring her teeth and slinking confidently through the darkness
In the latest VMA promo, Cyrus emerges with fire-breathers and graffiti artists at the Barclays Center stop at Atlantic Avenue. Commuters stand on the platform with a wary gaze (maybe they're pissed that Miley's holding up the N train). A busker strums "We Can't Stop" quietly on a ukulele, while the Smilers blast the Beastie Boys' "No Sleep Till Brooklyn."
As a VMA nominee for Best Pop Video, Best Female Video and Best Editing, she doesn't take her upcoming appearance at August 25's show lightly. And her crew that's following her underground in the subway? She's doing it all for them.
"I'm so thankful to my fans," Cyrus told MTV News on set of the promo. "I'm obviously making the music and I come out here and like, 'work,' but it's really all on the fans. They're all about buying the record and who's out there making the video so viral and get to 100 million. So, really, I want to continue to shine the light on them a little bit. That's why it's important to show this army of Smilers."
So what will the Smilers do if Miley actually wins?
"Winning, they get as excited as I do, I really think," she said. " 'Cause they're the ones who are making it happen, voting every day. So every day I just go to my Twitter feed and I see 'I just voted for Best Pop Video,' 'cause I see all my followers who have been voting, it's obviously so cool. That's why I wanted to represent them in this whole video and show kinda how they're a part of my crew."
Source : MTv