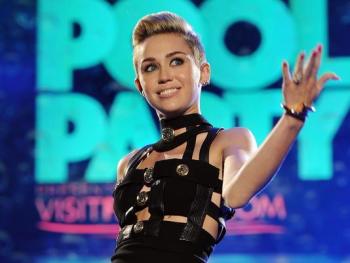 BANGERZ. That's the name of Miley Cyrus' new album.
The star tweeted the name of her new album when she reached 13 million Twitter followers Tuesday, writing, "If you don't know why my record is called BANGERZ you'll know as soon as you hear it. Nothin but #BANGERZ."
But … what does it mean?
Head-banging music? Something more risqué? Urban Dictionary defines it as "something that radiates unbelievable swell or swag." Or maybe the star just really likes this line of sports eye protection.
Whatever its meaning, hype is already building. Shortly after the big reveal, a nine-second audio clip of what purports to be a Miley song featuring Britney Spears hit the web. The title? Bangerz, of course.
Can't Stop singing Miley hits? Don't worry. Last month, MTV announced the 20-year-old tabloid favorite would be getting her own hour-long documentary special. Cameras will follow Cyrus as she works on her new album, which is due out later this year.
If you don't know why my record is called BANGERZ you'll know as soon as you hear it. Nothin but #BANGERZ

-; Miley Ray Cyrus (@MileyCyrus) August 6, 2013