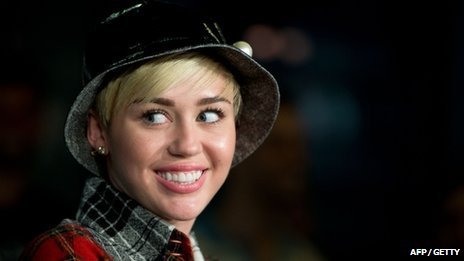 American pop singer Miley Cyrus has topped the singles chart with We Can't Stop – the first time one of her songs has hit number one in the UK. Cyrus, 20, who found fame as the child star of Disney children's show Hannah Montana, knocked Swedish DJ Avicii's Wake Me Up down to number two. Rapper Tinie Tempah's Trampoline FT 2 Chainz went in at number three. In the albums chart, Britain's Got Talent finalists Richard and Adam Johnson stayed at number one. They retained the top slot with their debut, The Impossible Dream. Next in the album chart were Grammy award-winning US duo The Civil Wars with their eponymous new entry. Their previous album Barton Hollow peaked in the UK at 13 in 2011.
Imagine Dragons' Night Visions was at number three in the album chart while Passenger's All The Little Lights was at four and Jahmene Douglas's covers album, Love Never Fails, hit number five.
The rest of the top five singles saw French DJ Cedric Gervais' house remix of Lana Del Rey's Summertime Sadness at four and Robin Thicke's Blurred Lines FT TI and Pharrell Williams at five.
US singer Justin Timberlake's Take Back The Night climbed 30 places to number 29, while American rockers Kings of Leon went straight in at number 31 with Wait For Me.
Cyrus, who is the daughter of country star Billy Ray Cyrus, previously peaked in the UK singles chart at number three with See You Again in 2008 and at 11 in 2009 with The Climb and Party In The USA.
Other new entries included indie rockers Swim Deep at 20 with their first album Where The Heaven Are We and heavy metal band Asking Alexandria at number 28 with From Death To Destiny.