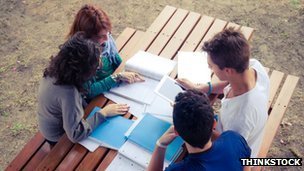 UK students are very satisfied with their colleges and universities, an annual survey suggests. The National Student Survey (NSS) of 304,000 final-year students found 85% were happy with their courses. Scores for assessment and feedback, academic support and management were all higher than in 2012. "It is encouraging to see that the student experience is continuing to improve", said Toni Pearce, president of the National Union of Students.
The high ratings among final-year undergraduates came a year after tuition fees trebled for new students.
The Ipsos-Mori poll for the Higher Education Funding Council for England (HEFCE) showed that 7% of students were unsatisfied and 7% said they were neither satisfied nor dissatisfied.
High ratings
Students from some 319 further education colleges and universities responded to the survey from across the UK – the highest response rate since the poll was first carried out in 2005. Some 86% of students said they were happy with the teaching on their course, unchanged from last year. Assessment and feedback were deemed good by 72% of students, up from 70% last year.
About 84% said that learning resources such as libraries and IT were good, up from 82% last year.
The rating for student unions also rose, with 67% saying they were happy with the service provided, against 66% in 2012.
The survey revealed that students at the University of Bath were most satisfied, with 94% saying they were happy with their courses.
St Andrew's University had the happiest students in Scotland and, with a satisfaction score of 93%, shared overall second place with the Open University.
Several smaller specialist institutions were also rated highly by students, among them the Institute of Education (97%), Medway School of Pharmacy (97%) and Brighton and Sussex Medical School (95%).
The institution with the lowest satisfaction rate was Ravensbourne, a specialist design and communication college in south-east London, at 64%.
Ashton-under-Lyne Sixth Form College, in Greater Manchester, and Herefordshire and Ludlow College in Hereford, which both offer degrees, had satisfaction rates of 100%. Sir Alan Langlands, chief executive of HEFCE, said: "These strong results continue to demonstrate the high-quality student experience provided by universities and colleges in the UK.
Very encouraging
"However, institutions must continue to enhance what they offer and respond effectively to the diverse needs of their students."
Dr Wendy Piatt, of the Russell Group, which represents 24 research-based universities, welcomed the survey's finding that 88% of the group's students were satisfied with their courses.
"All our universities work hard to make sure they have high levels of satisfaction and low drop-out rates. We have some of the best university completion rates in the world and we are pleased with this strong endorsement from students themselves".
Universities Minister David Willetts described the rise in student satisfaction as "very encouraging".