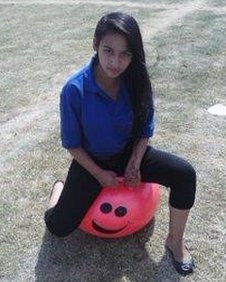 Detectives searching for a 13-year-old girl missing from home for nearly a week have released a new picture of her and renewed their appeals for help.About 50 officers are looking for Erika Kacicova, who was last seen leaving her Sheffield home on Monday.
Police, who have classed the case as a "critical incident", say there have been reported sightings of Erika but none of them have been confirmed.A 22-year-old man arrested on suspicion of child abduction has been bailed.Det Insp Helen Tate, of South Yorkshire Police, said Erika had been missing before but it was out of character for her to disappear for so long.
She said: "We are getting increasingly concerned for her welfare as time goes on.
"Erika is only 13, she is young and a normal teenager, who listens to music and spends time with her family and friends. We want her to return safe and well." The detective said Erika's family were "very distraught" and her younger brother and sister were "missing her terribly".
The force has about 50 officers and staff working on Erika's case.
Their search has centered on the Sheffield and Bradford areas where it is known the teenager has friends, and there have been reported but unconfirmed sightings of her in both cities.
Police have also received "dozens" of calls from members of the public, Det Insp Tate said.
"Please keep these calls coming in. We will look into any information you can give us," she added.
The schoolgirl is described as being about 4ft 11in (1.5m) tall, of slim build with long, dark brown, straight hair and brown eyes.
She was said to have been wearing blue jeans, a pink polo shirt and silvery-grey jacket when she left her Poole Road home in the Darnall area of the city at about 16:00 BST.
The man on bail is from Bradford and handed himself into police on Friday.