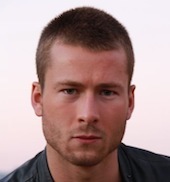 Although his credits include a minor appearance in Christopher Nolan's The Dark Knight Rises (he played "Trader #1"), Glen Powell is a relatively newcomer to leading roles in Hollywood. That's all about to change, however, as The Hollywood Reporter today brings word that Powell has scored a major part in Lionsgate's upcoming The Expendables 3. He'll play a military hacker and drone expert in the ensemble sequel.
Powell will join a cast that currently includes Slyvester Stallone, Arnold Schwarzenegger, Harrison Ford, Jason Statham, Kellan Lutz, Ronda Rousey and Victor Ortiz. The film set to shoot soon in Los Angeles, rumored additional cast members have been said to include Jackie Chan, Wesley Snipes, Nicolas Cage and Milla Jovovich, although none have been, as of yet, confirmed.
The Expendables 3 will be directed by Patrick Hughes and will arrive in theaters on August 15, 2014.