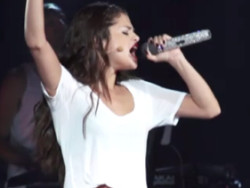 Planning for a world tour is hard work — just ask Selena Gomez.
For the past two months, the "Come & Get It" singer has been perfecting every dance move, every wardrobe change and every beat of music for her Stars Dance World Tour, but now the time has come to put the finishing touches on the project, and MTV News was given an exclusive invite to witness it all.
"It's one of the last days putting it all together so it's kind of a little hectic, everyone is putting on wardrobe trying on outfits, dancing in the outfits going over the numbers nonstop," Gomez said at one of her final dress rehearsals at Citizens Business Bank Arena in Ontario, California. "It's the last couple of days we're buckling everything down."
During rehearsal, Gomez gave us a front row seat as she belted out the words to her song, "Undercover," off her chart topping album Stars Dance.
Dressed down in black sweat pants and a white T-shirt, Gomez gracefully moves about the stage showing off her dance moves. And even though it was only rehearsal, one can tell that the Stars Dance tour takes on a much different feel then her previous 2011 tour, We Own the Night.
"I have a little more say. I'm wanting to control the show more from the content to the choreography to everybody a part of it," Gomez said. "If anything my music is escalated and I just wanted to make it bigger and better than the last one, so it's all happening."
Gomez, who is nominated for Best Pop Video at the 2013 VMAs, hits the stage for the first of her 56 date global trek on Wednesday in Vancouver. She's hoping her show, which she describes as a "giant rave," has the same effect on her fans, that her idol Britney Spears had on hers.
"I want people to feel it when they hear the beat on the song, when they see a dance move, that it encourages them to keep going," Gomez said. "I want them to non-stop dance, because that's what I grew up watching in the nose bleeds going to every Britney show just still wanting to this day to learn her dance moves because they are so epic, so that's what I'm trying to do, make it fun, original and let them have a great time."