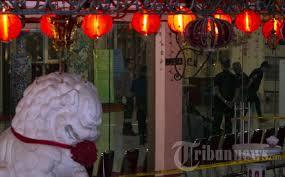 Jakarta – Earlier bombings rocked the capital region. Although a low explosive, but the explosion that occurred in Temple Ekayana, No. 8 Jalan Mangga II, RT 08/08, Duri Kepa, Kebun Orange, West Jakarta is enough to make people fret about. As a result of the violent event, a church woman suffered minor injuries in the arm.
Head of Criminal Investigation (Kabareskrim) Police, Commissioner General Sutarman said that from reports received, there are two separate bomb placed around the temple courtyard Ekayana. Of the two bombs, the only one which exploded with a low explosive. While the bomb failed to explode again.
"So, the bomb that exploded was low explosive type (low explosive) and not the slightest damage to the temple building.'s Only one church and the victims suffered minor injuries," said Sutarman, at the scene on Monday (5/8) early days, as reported by beritajakarta site.
Sutarman said, while a bomb blast, in the temple worship ongoing activity. In the monastery courtyard found pieces that are still collected for investigation. "Officers are still doing crime scene and collecting evidence in the field to reveal who the perpetrators of the bomb blast," said Sutarman.