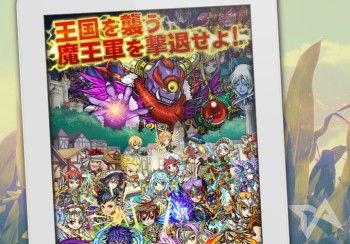 The joint venture that GREE (TYO:3632) and Yahoo Japan established back in February this year – called GxYz – has released its first game.
Driland: Devil King Army vs Men Of Valor (a rough translation of the title) is a spin off of social card battler Driland (aka Doliland), GREE's super-popular self-developed game (the English iOS version can be found here, but it will be closed on August 27, just like the Android version).
The spin-off was released exclusively for GREE on smartphones (as a browser-based game, and for Japan only) earlier this week.
In the new game, players take on the role of hunters (the hero characters in Driland proper) who have to defeat the Devil King army by teaming up with various monsters, gathering armor and weapons, and assembling parties.
What's the difference between the two Driland titles?
Back in May, GREE introduced real-time battle elements to the original Driland. This new game puts these battles front and center by automatically assigning players to a guild right from the start and then letting them fight with members of the "Devil King Army" in real-time.
Every day at 8am, noon, 6pm, and 10pm, players can engage in real-time 10 versus 10 battles (meaning a maximum of 20 characters can appear on the screen simultaneously). Outside these guild battles, players can – much like in the original Driland – strengthen their hunters by questing, winning items at gacha, and creating powerful weapons and armor.
Here are some more screenshots: