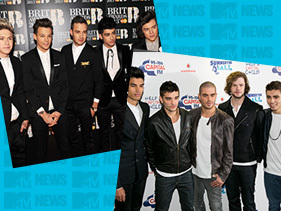 While the road to a possible collaboration has been bumpy, to say the least, The Wanted's Nathan Sykes reveals that he wouldn't rule out working with One Direction in the future.
"You never know, you never know! I think with Backstreet Boys and New Kids [On The Block], that's really cool what they did, and there's been some great collaborations. You never know," Sykes told MTV News during a game of golf to celebrate the release of their new Word of Mouth single, "We Own The Night."
The guys are throwing their feud behind them, Sykes said.
"I think both ourselves and One Direction are, as far as I'm concerned, whatever kinds of words were said since I wasn't really part of it, think it kind of [went away now,] which is awesome," he said in between putts. "I think it's the best people really concentrate on the success that we're both having and how well [we're doing,] which is always great."
Both the Wanted and 1D rose to pop superstardom by dropping debut singles in the U.S. in 2012. From there, they quickly rose to household name status and, yes, engaged in some friendly rivalry. With both groups prepping album releases for later this year, Sykes explains why boy bands are here to stay. And it has a lot to do with "radio hits."
"I think ourselves and One Direction have done really well to make sure the music stands up on its own," he said. "And I think with boy bands it's very easy for people to say 'Oh, they sell a lot of posters. Oh, the kids buy it because they like the look of the guys.' I think it's all down to the music and as much as people can put it all down to, it is all down to the girls because they're amazing, but I think it also helps we've got really great songs and we're really lucky to work with such amazing writers."
Nathan admits that tabloid headlines tend to distract people from the music and their true personalities.
"It's very easy because we tend to draw attention to our personal lives," he said. "We all try and keep as normal and such as possible. You're more likely to find us in a local pub than any nightclub. But obviously the only time you do see us in the press is coming out of a major nightclub. Most of the time, we like to sit in at the local [pub] having a couple drinks with friends and family."