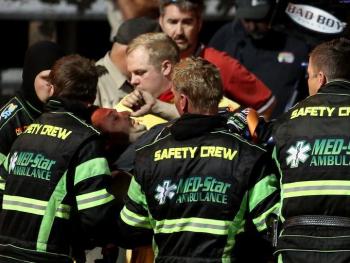 OSKALOOSA, Iowa — Three-time NASCAR champion Tony Stewart was hospitalized with a broken leg early Tuesday morning after crashing at a sprint car race in Iowa. Stewart-Haas Racing spokesman Mike Arning said Stewart sustained a broken right tibia and fibula in a crash at Southern Iowa Speedway in Oskaloosa, Iowa. He was transported to a local hospital by ambulance, where he underwent surgery.
Stewart will miss at least this weekend's NASCAR Sprint Cup race at Watkins Glen; Arning said a replacement has not been named and it's unknown how long Stewart will be out overall. A test scheduled for Tuesday at Atlanta Motor Speedway has also been canceled.
"Our foremost concern is with Tony's health and recovery," NASCAR said in a statement Tuesday afternoon. "We're in close contact with his team and they will provide further information as it becomes available."
The driver/team owner was leading the 30-lap feature of the Front Row Challenge with five laps remaining when Josh Higday's car spun on Turn 4 and collected the top three cars — Stewart, Tasker Phillips and Tony Shilling.
Track officials said Stewart, 42, was conscious and talking to responders after being placed on a stretcher.
Brian Brown raced to victory, holding off Kyle Larson after the restart.
"First and foremost, we're concerned about Tony and making sure he's all right," Brown said. "He's a huge asset to our sport, especially sprint car racing and an icon in the whole motor sports field. Anytime you see him wreck like that and then leave in an ambulance, it's never good. Hopefully he's okay. We weren't going to win that race. We were probably going to run third or fourth."
Brown added: "When I saw the wreck, I turned left and hit an infield tire and kept going. It was just luck."
Asked what he saw of Stewart's situation, Brown said: "It looked like he got into a lapped car. When I got close, he was flipping cage down. I didn't really have time to watch and see what was going on."
Brown went on to explain how he avoided the wreck.
"Luckily we've got good brakes and I was able to turn left and that tire didn't hurt us too much," Brown said. "I plowed one of those tractor tires and just kept going. That was my only choice. It was either that or run into them. I chose the infield."
Larson, one of NASCAR's rising stars, described what he observed when the wreck occurred.
"I didn't see how it happened, I just saw cars going everywhere," Larson said. "I had to duck through the infield and luckily I missed it."
Larson added: "I saw Brian monster truck that tire. I actually clipped the tire before that wreck going into that corner. Luckily it got me out of shape enough to go through the infield."
Larson, 21, is similar to Stewart in that he loves racing anything with four wheels. Larson is among the leaders in the Nationwide Series. Stewart is a former Indy Racing League star and now is among the best in Sprint Cup.
"He grew up racing open-wheel dirt stuff like I've been doing. He's probably the best race car driver ever," Larson said.
As for the similarities?
"Me and Tony do a lot of the same things, racing every night that we can," Larson said. "I suppose that's what makes us both special and we're both good at it. Let's hope he's all right."
Driver Tony Bruce Jr. said the wreck area was filled with debris.
"At that time we were on the back straightaway," Bruce said. "By the time I got there, all I saw was carnage. Cars and parts and pieces laying every which direction and it looked pretty bad. I knew it looked pretty bad, but hopefully Stewart is okay and he'll be able to continue his day job on Sunday."
Many fans probably wonder: Why does a big star like Stewart risk everything at small tracks such as Oskaloosa's?
"That's the risk I know he's willing to take because he enjoys sprint car racing and a lot of people don't understand why he would do such a thing, but I do," Bruce said. "Almost every single person in this pit area loves sprint car racing and will literally mortgage their house and everything they've got to go do it. I know right now it's kind of getting a bad rap, because people are dying and getting injured really bad. But at the same time, we all know that's the risk.
"Heck, you could die in a street car probably easier than you could die in a race car. It's one of those things that unfortunately happens. Hopefully he'll be okay and I'm sure we'll see him in a race car again."
What causes the addiction?
"First, the adrenaline rush, and then the competition," Bruce said. "If you're competitive at anything, you always want to be the best. When you get out of the car at the end of the day and you beat everybody, you feel like you're somebody. There's really no explanation for what it is. It's just there and you can't get rid of it."
This season, Stewart won the FedEx 400 at Dover International Speedway on June 2, took second in the Coke Zero 400 at Daytona on July 6 and placed fourth in the Brickyard 400 at Indianapolis on July 28.
This was Stewart's third sprint car wreck in as many weeks. He was involved in a multi-car crash at Canandaigua Motorsports Park that sent two drivers to the hospital, but he was unhurt. Following last week's flip at Ohsweken Speedway, a dirt track in Ontario, Canada, he raced the next night at the same track and finished fifth.
Stewart's injury comes at a time when the spotlight on drivers who moonlight has been brighter because of a spate of deaths and injuries.
It comes one day after sprint car hall of famer Kramer Williamson died after suffering injuries in a crash at a dirt track in Pennsylvania.
In June, former NASCAR driver Jason Leffler died after a sprint car crash.
About two weeks before Leffler's death, Josh Burton died of injuries sustained in a crash at Bloomington Speedway in Indiana. In late May, at a dirt track in Nevada, two drivers were killed in a race. And in March in California, two people were killed when a car careened off a dirt track and crashed on pit road.