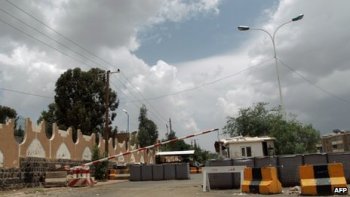 The US says it will keep a number of embassies in north Africa and the Middle East closed until Saturday, due to a possible militant threat.
Twenty-one US embassies and consulates closed on Sunday.The State Department in Washington said the extended closures were "out of an abundance of caution", and not a reaction to a new threat.
Britain said its embassy in Yemen would stay closed until the Muslim festival of Eid on Thursday.
The UK Foreign Office had earlier announced it would shut its mission in the Yemeni capital Sanaa until Tuesday.
Meanwhile US diplomatic missions in Algiers, Kabul and Baghdad are among those which will reopen on Monday, Washington said.
But its diplomatic posts in Abu Dhabi, Amman, Cairo, Riyadh, Dhahran, Jeddah, Doha, Dubai, Kuwait, Manama, Muscat, Sanaa and Tripoli will remain closed until Saturday.
The US state department also added African missions in Antananarivo, Bujumbura, Djibouti, Khartoum, Kigali and Port Louis to the list, meaning a total of 19 US embassies will remain closed this week.
A state department global travel alert, issued on Friday, is in force until the end of August.
The department said the potential for an al-Qaeda inspired attack was particularly strong in the Middle East and North Africa.
Embassies closed on Sunday, a working day in the Muslim world, included Amman, Cairo, Riyadh and Dhaka.
The embassy closures and US global travel alert came after the US reportedly intercepted al-Qaeda messages.
It has been suggested that they were between senior figures talking about a plot against an embassy.
Plot
Referring to the Middle East, the state department said: "Current information suggests that al-Qaeda and affiliated organisations continue to plan terrorist attacks both in the region and beyond, and that they may focus efforts to conduct attacks in the period between now and the end of August."
The travel alert called for US citizens to be vigilant, warning of "the potential for terrorists to attack public transportation systems and other tourist infrastructure".
An unnamed US official has said the threat could be related to the Muslim holy month of Ramadan, which ends this week.
Several European countries have also temporarily shut missions in Yemen.